Read Time:
17 Minute, 22 Second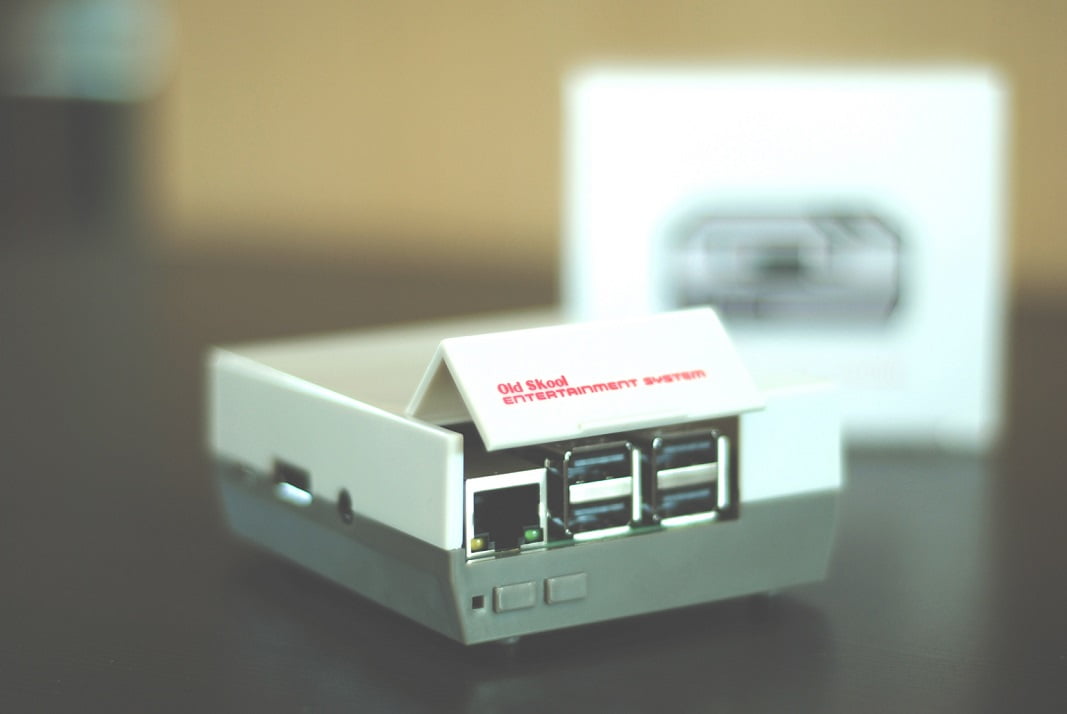 It has never been a better time to get into retro gaming.
There is a huge variety of consoles available which enable you to play classics from Nintendo, Sega, and also your arcade favourites.
Fortunately these days you don't have to worry about having shelves full of cartridges in your home.
This is due to the variety of all-in-one consoles which enable you to store many games on the consoles themselves.

"Hi I'm Tom from Aeon Reviews.com and here we will look at the best all in one multi platform retro game consoles"
What Is An All-In-One Retro Games Console?
Typically traditional consoles would have you use some kind of cartridge each time you played a game. This unfortunately meant a lot of swapping and changing, and as mentioned, needing lots of shelf or drawer space.
These days however, many retro consoles have tens, sometimes hundreds of games already built into the system.
This is done by converting old game cartridges to ROM files, where the game is essentially stored in a file on computer. These ROMS can then be simply accessed via the system's main menu.
Also, some third party developers have combined versions of their favourite companies systems into one console.
Meaning for example Nintendo fans who still prefer to play with cartridges can purchase a system which has slots which can accommodate, for example, the games from a NES as well as a SNES/Famicom.
In this article we will cover the best all-in-one retro gaming consoles available today.
Whether you are a Nintendo or Sega fan, or want a retro console for on the move, you will almost certainly find something for you.
At A Glance…
1/ SNES Super Nintendo Mini Classic

Pros
Perfect SNES Emulation
HD Picture
Option To Add Games
Cons
Doesn't Accept Cartridges
Spec:
Comes fully loaded with 21 games
Rewind Minute or More Gameplay
Compatible with the Classic Controller and Classic Controller Pro
Plug In & Play
For Up To 2 x players
CHECK PRICE ON AMAZON
Looking just like a miniature version of the classic console from the 90's, the Super Nintendo Mini is perfect for the 90's Nintendo gamer who wants a trip down memory lane.
It comes preloaded with 21 of the best games available on the system.
It also comes with two controllers, which are full sized and not a smaller scale like the console.
Pros
This system is easy to set up, and ideal for beginners.
The games run perfectly and look great running at full 60hz/60fps. The image is also upscaled to 720p.
You can add more games if you wish as this system has 246mb of internal storage.
Also, being able to rewind the last minute of game play is a nice touch.
Cons
If you aren't charging this from a USB port you will need to purchase a power adapter.
All games are run off the internal storage, so unfortunately this doesn't take old SNES cartridges. And annoyingly you need to reboot the system to change games.
It would be useful if the controller cables were longer, or if the controllers themselves were wireless. However cable extenders are available.
Conclusion
An awesome little console which demonstrates how well the Nintendo classics have stood the test of time.
2/ Atari Flashback 8 Gold
Pros
Faithful Recreation of Original Consoles
Save/Pause/Rewind Games
Cons
Controllers Require Batteries
Spec:
2 x 2.4G wireless Controllers & 2 paddles
720p HDMI output
Multiple display modes
120 games
CHECK PRICE ON AMAZON
Atari were one of the originators of bringing arcade games into the home way back in the 70's.
Modelled on the original Atari 2600, the Flashback 8 Gold aims to take you back to that period with this great looking tribute to their original consoles.
Bundled with 120 games and also two controller types, playing all the Atari classics at home has never been easier.
The Flashback 8 enables you to replay classics such as Pitfall, Space Invaders, and Centipede.
Pros
The bundled controllers are an almost completely faithful recreation of the original controllers.
This system is small, lightweight, easy to carry around and store.
Every game has save/pause/rewind features. These abilities really help to get through tough spots in games and are outstanding new features.
Cons
The wireless joysticks run on batteries, and need two AAA batteries.
The paddle movement is somewhat tight. However they "break in" with use.
There are reports of issues with the joysticks not going left or right. However it was discovered recently this only happens when you leave the paddles plugged in at the same time.
Conclusion
A great way to experience the beginnings of console gaming, and a definite must for all Atari fans!
3/ Sega Genesis / Mega Drive Classic

Pros
Accepts Sega Genesis & Genesis 2 Cartridges
Compatible With Original Genesis Controllers
Great Value
Cons
No HDMI
Spec:
Includes 81 Classic Sega Games
Plug & Play
Stereo Sound
Includes 2 Wired Controllers
CHECK PRICE ON AMAZON
No list of retro all in one games consoles would be complete without an entry from Sega.
A video game giant in the early 90's, many gamers will welcome the chance to play the Genesis/Megadrive classics from that time again.
Pros
A great value system, which works out less than a dollar a game!
Enjoy classics such as Sonic, Golden Axe, and Altered Beast.
For those who already have a Sega games collection, this accepts original Sega Genesis and Genesis 2 cartridges. You can also plug in your original Genesis controllers too!
The Genesis Classic also has the ability to save in-game progress.
Cons
Unlike some other retro consoles there is no option to upscale the display to HD.
Unfortunately this does not run PAL game cartridges.
This system can be somewhat buggy, with reports of some games hanging/crashing.
Conclusion
By far the easiest way to enjoy classic Sega games.
Comes with an array of classic games, and you can insert the original cartridges for any games that aren't included.
4/ NES Classic Edition
Pros
Easy To Set Up & Portable
HD Picture
Lightweight & Portable
Cons
Does Not Accept Original Game Cartridges
The console that started it all for Nintendo and their unstoppable run of amazing home gaming systems.
Available again here as a miniaturized version of the classic NES console from the 80's.
Comes bundled with all the classic games from that era, such as The Legend of Zelda, Super Mario Bros 3, and Mega Man 2.
Pros
Easy to set up. Simply connect to a TV and you're away.
Up to 4 save game states.
The graphics are just as you remember but with a little more sharpness.
The device is lightweight, and portable if needed.
Cons
The included range of games is somewhat limited, which I understand is due to a legal issue.
However the more tech savvy amongst you will quickly be able to utilise online documentation to enable the upload of games onto the device. Giving you the ability to potentially upload over 800 games!
Unlike the Genesis classic, this console does not accept original game cartridges.
The NES classic only comes with one controller, and the controller cables are somewhat short (28″). However controller extenders can be purchased if needed.
Conclusion
If you're looking for some 8-bit nostalgia, the Nintendo Entertainment System: NES Classic Edition won't disappoint.
5/ Hyperkin RetroN 5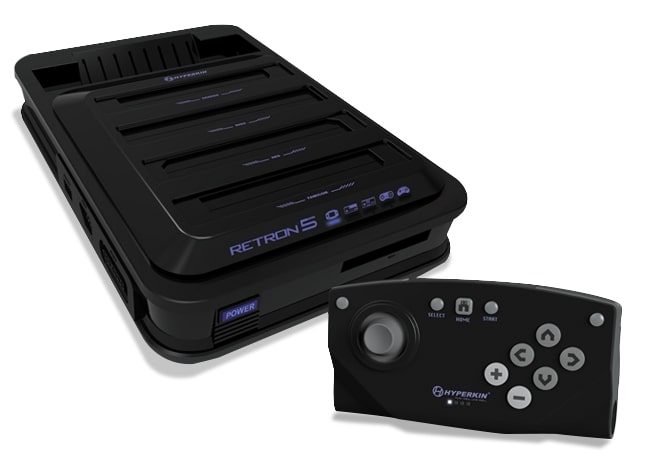 Pros
Play Games From 9 Different Consoles
Wireless Controllers
SD Card Storage
Cons
Some Cartridges Difficult To Eject
Spec:
Multiple System Compatibility: Play NES, SNES, Super Famicom, Genesis, Mega Drive, Famicom, Game Boy, Game Boy Color, and GBA cartridges. Also play Master System games with the use of the Power Base Converter.
HD Output: Upconvert the signal to your HDTV with a maximum output resolution of 720p.
Save/Load States: Save or load your games at any point, with 10 save slots for each game.
Controllers: Bluetooth Wireless Controllers
Original Controller Ports: 2 original controller ports (6 total) for each platform
CHECK PRICE ON AMAZON
Packing a whopping 9 retro systems all in to one console, the Hyperkin 5 is a great choice when you want to be able to play original cartridges from a range of systems.
This device features five cartridge slots to enable you to play retro games from both Nintendo and Sega (SNES, Megadrive, Game Boy & more).
Pros
The wireless controller has a great range, and features two programmable macro buttons.
It also has a home button for quick in-game access to features.
Another nice touch is the pre-built in cheats that can be accessed at any point during gameplay for most games. You can also update the cheats library using an SD card.
Also you don't need to buy a separate controller for each platform.
For example you can play Genesis games with a SNES controller. The system has a feature which will tell you if you are playing a game with a controller with not enough buttons.
You can store save dumps, save states, screenshots, cheats and patches on the SD card.
There are no region locks with this console, and it supports both NTSC and PAL.
Cons
The Retron would benefit from an eject button to remove the cartridges. Games are removed by hand, with the NES cartridges being particularity stiff when removing.
Conclusion
The long term reliability of this console is somewhat questionable. However a large portion of the Retron's user base also report no problems with the console. Also the developers work hard to make this system better and better with each release.
The Retron is the only console on the market which offers the ability to play such a wide range of consoles. A great option for multi platform retro gaming.
6/ Retro-Bit Super RetroTRIO (SR3)
Pros
Compatible NES, SNES, GENESIS Cartridges
Accepts Original & 3rd Party Controllers
Great Design
Cons
Sound Emulation Could Be Improved
Spec:
Compatibility – Original NES, SNES, GENESIS Games
Region – NTSC/PF/NJ/PA Region Switch
6 Controller Ports – Compatible With Original and Third Party Controllers
2 Controllers Included – Compatible With The 3 Cartridge Slots
Connection – S-Video
CHECK PRICE ON AMAZON
Offering a similar approach to retro gaming as the Retron 5, this console aims to let you play retro games cartridges from across different platforms, all in one system.
The Super RetroTRIO is however limited to NES, SNES, and Genesis games.
Pros
The included controllers are faithful to the original SNES controllers, but you can also plug in other original controllers from the above systems, as well as third party controllers.
Unlike other systems the SR3 will accept the 500 in 1 type game cartridges available. Also, even though not advertised, this system will also accept Famicom games.
You can even use the NES light gun on this system however you will need any old style CRT TV for it to work.
The design is nice and compact.
Cons
There is no hardware support to upscale the display.
The default controllers are of the SNES layout, so you may be disappointed by this if you are looking for an authentic Genesis experience.
This system seems to change the original sounds and music slightly. This may be down to the way the sound is emulated.
As with the Retron, this console would benefit from an eject button.
Conclusion
Ensure your TV has a RCA-SVideo connector before buying.
If you were strictly a Nintendo gamer back in the day then perhaps consider the Retro-Bit Duo Twin Video Game System instead.
Overall though, the Super RetroTRIO looks great,plays well, and is great value.
7/ Retro-Bit Super Retro-Cade
Pros
Play Nintendo & Sega Classics
Upload More Games If Needed
Smart UI
Cons
Limited Controller Options
Spec:
Games – Includes Games Officially Licensed From Capcom, Data East, Irem and Technos
Controllers – 2 x 10′ Wired USB Six Button Controllers Compatible With PC and Mac
Intuitive Smart UI – With Smart Filters For Easy Navigation, Internal Save States, & Button Tutorials
Display – AV and HDMI compatible (6′ HDMI cable included)
SD Card Slot – To Save & Transfer Game Progress, Also Upload More Games
CHECK PRICE ON AMAZON
Want a retro gaming system but don't want the hassle of having a collection of cartridges taking up space in your home?
Try the Super Retro-Cade which comes with over 90 popular games already pre-installed.
This system enables you to play a host of classics from the NES, SNES & Genesis platforms.
Pros
Includes a nice selection of games from across a number of genres. Includes classic such as Final Fight, Double Dragon, and Mega Man 2.
Access titles through the user friendly game library menu, which can be sorted by name, publisher and genre.
The Super Retro-Cade can also play ROMS via an SD card.
The games look great on a big screen thanks to the HDMI out. You can also change the aspect ratio.
This system is also easy to setup, so you will be retro gaming in no time.
You also have the option to remap the controller buttons to different functions.
Cons
The Super Retro-Cade lacks some of the big name titles from these systems.
Also there is no option for wireless controllers, and it is fussy about what USB controllers it will accept outside of what is included.
There are also reports of some slow down in some games.
Conclusion
This is a great option for playing some of the classic Nintendo, Sega, and arcade classics, without the hassle of owning the original game cartridges.
At times the emulation isn't perfect, and this console would benefit from more controller options.
However this is a great pick up and play system with a near endless library of games due to the ability to add new ROMS via the SD card slot.
8/ C64 Mini (Commodore 64 Mini)
Pros
Wide Selection of Games
HD Display
Functional Home Computer
Cons
Stiff Joystick
Spec:
High Definition Output At 720p via HDMI
Pixel Perfect Display, With US/Europe Display Modes And CRT Filter Options
Save Game Function
Supports Software Updates via USB Flash Drive
2 USB ports
Included: The C64 Mini computer, Classic USB joystick, HDMI cable, USB cable for power, 64 preinstalled games, instruction manual. *AC USB adaptor not included
CHECK PRICE ON AMAZON
The C64 mini is a re-imagining of one of the most popular home computers of all time.
This system arrived in the early 80's, and while it was developed to be used with office applications, it was also a popular gaming platform.
Pros
Includes a great selection of 64 game titles, such as Boulderdash, Speedball and California Games.
You can easily add more games via a USB stick.
This device can be powered via a USB port, but you will need to buy the AC adapter seperately.
Plug in a USB keyboard and use the C64 Mini as a fully functional home computer, or add a second joystick for 2-player games.
The C64 mini uses a HDMI connection for crisp looking graphics.
Cons
Unfortunately the keyboard for the C64 mini is for show only. So don't pick this up if your are expecting the same functionality as the system from the 80's. This is a retro gaming platform only, and you will need to pick up a functional keyboard separately.
The included joystick is somewhat stiff, and there are limited options in terms of third party controllers which could be used with this system.
The virtual keyboard offered is too clumsy for some games, so connect a USB keyboard to get the most out of this.
Conclusion
A solid recreation of one of the great home computer systems. Consider upgrading from the stock joystick however if you do purchase.
9/ Spmywin GroGou Arcade Video Game Console 2000
Pros
Arcade Gaming At Home
HD Display
Impressive Game Library
Cons
Limited Controller Options
Spec:
Games – Includes 2000 Games & Favourites List
Controls – Adjust & Customize Buttons
Display – 1280×720 HDMI Resolution
Case – Non slip case
CHECK PRICE ON AMAZON
If you want to bring an arcade gaming experience to the home then the Spmywin GroGou Arcade console is a great option.
This system does away with big bulky arcade cabinets, but offers an authentic joystick interface true to many arcade machines from the past.
Pros
The joystick interface has a nice weight and feel to it. Almost identical to a real arcade machine. It also lights up which is a nice touch.
It has plug and play functionality, so no frustrating set-ups.
This system connects to a TV via HDMI cable (included), so you can play from the comfort of your chair.
This console can also be connected to a PS3 and PS4.
Play classics such as Street Fighter 2, Sega Outrun, Bubble Bobble, and Marvel vs Capcom.
The games look great when run on this system, and are identical and if not better to the originals thanks to the HD output.
Cons
Unlike the other systems we have mentioned in this article, there is no option to add more games to this system.
Also there is no option to use wireless controllers with the GroGou.
2000 included games is somewhat misleading as it has variations on certain titles. For example there are over 40 King of Fighters games included here!
Conclusion
Possibly the best console available for having that arcade gaming experience in your home.
10/ Anbernic Handheld Pap-KIII Game Console
Pros
Easy To Use
Crisp Display
Packed With Extras
Cons
Poor Stock Battery
Spec:
3000 No Repeat Games + Option To Download Games (650 included with console)
Supports TF Card to Expand Memory Up To 32G
26 Languages Supported
Supports MP5 Video / Movies / Camera / Image Browser / eBooks / Recorder Function / Loss-Less Audio
Compatible Game Platforms – NEOGEO / CPS / GB / GG / SEGA / SMS games format
Can Connect to TV
CHECK PRICE ON AMAZON
If you like your retro gaming on the go, Abernic provide a great all in one portable retro gaming console.
Looking very much like a Playstation Portable, this console comes with an incredible 650+ games included, as well as a host of other cool functions.
Includes classic such as Super Mario World, Street Fighter Turbo, and Double Dragon. Also many more games from a range of Nintendo, SEGA and Neo Geo consoles (such as the SNES and Genesis).
This console also acts as an audio and video player for on the go, and can even be used as an ebook reader.
There's even a rear facing camera included.
You can also plug this into a TV for a full screen experience.
Pros
The screen is surprisingly bright and crisp, and the sound also appears true to the original games (however expect some distortion at high volume).
You can also add further ROMS via an SD card.
Easy to pick up and use, making it ideal for any member of the family.
It is a great console for those long drives or flights.
Cons
There have been reports of the poor quality of the battery that ships with the console, which in some cases only runs for 2 or 3 hours. This has led many users to immediately upgrade this.
There are also emulation issues with some titles, however it appears the more mainstream titles appear to run fine on this platform.
Conclusion
A great little console for such a low price, which is packed with a surprising amount of games and features. A great gift for anyone who grew up in the 80's and 90's.
11/ WZNANA Retro Handheld Game Console
Pros
Pocket Retro Gaming
Connect To TV
Packed With Extras
Cons
Some Replica Game Titles
Spec:
Ergonomic Retro Design
638 Games Included
Light & Portable Ultra Thin Design
Rechargeable Battery
CHECK PRICE ON AMAZON
If you grew up in the 80's and 90's the chance is that one of your first gaming experiences was on a Nintendo Game & Watch system.
These devices offered and handy way to play video games on the go. They proved popular at the time, with over 43 million units shipped worldwide.
The downside to these systems however is that they generally only let you play one game.
Today however you can relive those Game & Watch memories but with hundred of games bundled on one device thanks to the WZNANA Retro Handheld Game Console.
Pros
A really great looking device, with a brushed golden alloy front, and faithful retro looks.
Includes classic such as Mario Brothers, Tetris and Donkey Kong.
It can be hooked up to a TV to play on the big screen.
Also includes a carry case, expansion card, manual, AV and USB cables.
Cons
Some games are bootleg versions of the originals, however this doesn't take away from the fun and playability of the console.
Conclusion
A cheap and fun way to get your retro gaming fix on the go. One of the best LCD retro handhelds.
Conclusion
Well there is our list. We hope you have enjoyed this article.
As you can see there are many options available for retro game consoles with all in one functionality.
Have you played any of these consoles yourself? What was you favorite? And did we miss any?
Please check out our other gaming reviews, such as our article on the best handheld console of all time.
Banner image courtesy of Hello I'm Nik